About Pacific palisades democratic club
Our Story
The Pacific Palisades Democratic Club (aka PaliDems, or PPDC) has come a long way since a group of politically active Palisadians incorporated a local Democratic club in 1953 (happy 70th anniversary!). We remain just as committed to meaningful change today — in California, the nation and the world — as we were on day one.

We're among the most influential Democratic clubs in Southern California. We're proud to have led the founding and running of the Westside Democratic Headquarters, opening brick-and-mortar Santa Monica locations every presidential election year, drawing, training, and managing thousands of volunteers to become one of the top-performing in-person campaign centers nationwide from 2004 through 2016.
And two of our board members founded and lead another sister organization, the Grassroots Democrats / Grassroots Democrats HQ, now a year-round, preeminent GOTV operation that's quickly grown to be among the most successful in the country.
Most importantly, the club has a membership base that supports Democratic ideals. They donate to the cause, attend events, and show up for canvassing, phone banking, and advocacy of local, state, and national issues and candidates.
HISTORY OF THE WESTSIDE DEM HQ
One of the most influential and exciting jobs the PaliDems have taken on is the opening of a Westside Democratic Headquarters every Presidential election year.
These HQs train and equip thousands of volunteers to make calls and texts to Get Out The Vote in swing states for national races, and in California for local ones … host candidates and ballot proposition forums … feature debate-watch and other parties and events … charter buses to Las Vegas for voter registration and canvassing … and provide a gathering place for anyone who wants to make a difference and help Democrats win.
They've also hosted our famed collections of election swag, featuring a bigger in-person selection of election merchandise than you're likely to find anywhere else in L.A.
---
2018: Blue Wave Midterms HQ
With the stakes higher than ever, we tried something new and supported a physical HQ space in a non-presidential election year, deep in the heart of Westwood. So many volunteers, buses to neighboring districts, calls, parties, etc. — boy, did we Get Out The Vote!
2016: Our WDHQ on Montana Avenue in Santa Monica was a huge success on several fronts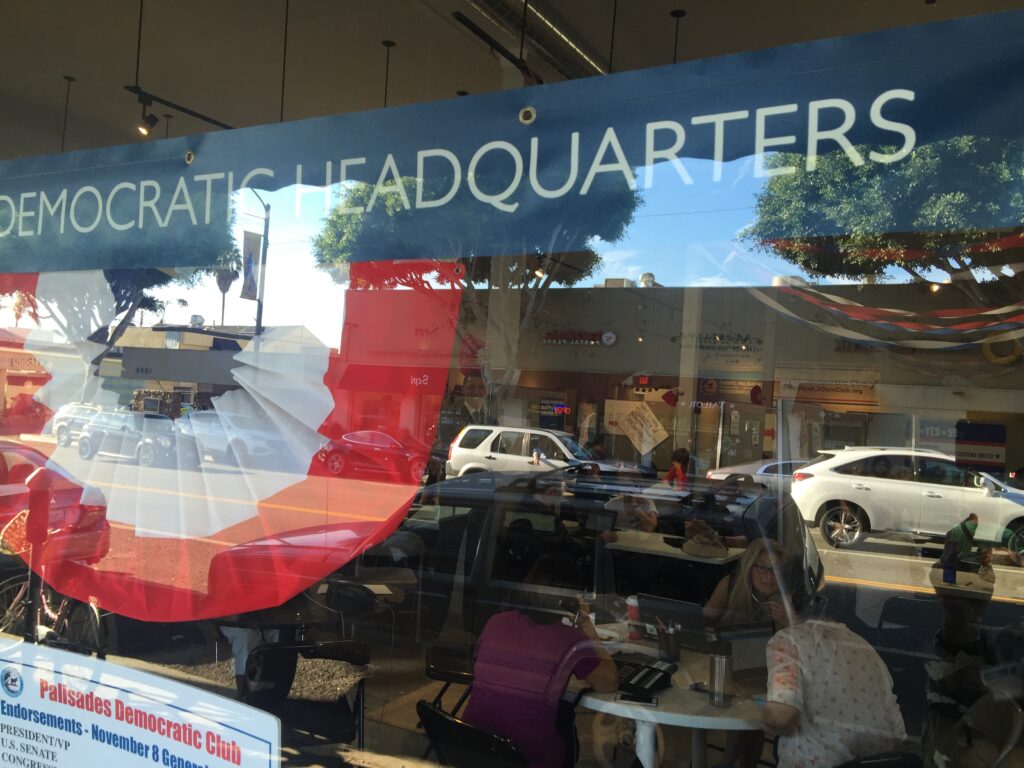 ---
The thousands of volunteers who pitched in made ours the #1 election HQ in California for calling and texting to Get Out The Vote for the Hillary campaign. We were instrumental in helping keep Nevada blue and putting Catherine Cortez Masto in Harry Reid's US Senate seat. We helped California get even bluer, reelecting Rep. Ted Lieu and Assemblymember Richard Bloom … putting Kamala Harris into Barbara Boxer's vacated US Senate seat … winning a majority of the ballot measures we backed … and securing supermajorities in the CA Legislature.
PPDC brought into the HQ the West L.A. Dem Club and the Santa Monica Dem Club to make it a true Westside coalition, and we're most grateful for their support and the hours they put in to mount events and make the place hum.
But your organization — the Pacific Palisades Democratic Club — led the charge: finding, setting up, staffing, organizing, and, perhaps hardest of all without your help, providing the vast majority of funding for the HQ space, supplies, and personnel.
We couldn't have done it without our members and supporters. And with the 2018 midterms and 2020 presidential race fast approaching, we need you to join or renew your membership today.
---
2012: Third St. Promenade HQ
Thanks in no small part to our members and volunteers, 2012 was a tremendous year for California Democrats generally and for the Pacific Palisades Democratic Club in particular
Barack Obama and Joe Biden were re-elected. Henry Waxman, Fran Pavley, and Julia Brownley were victorious.
Proposition 30 was passed and Prop 32 defeated. And the results on seven other state ballot measures were in line with our endorsements.
Over a thousand volunteers came together at our Westside Democratic Headquarters on the Third St. Promenade to make it all happen. We registered more than 1200 new voters, made hundreds of thousands of calls, and organized swing-state trips.
The HQ was visited by Valerie Jarrett, senior advisor to President Obama.Others from the national campaign followed, to observe and to thank us for our efforts. We also played host to inspirational speeches and appearances by too many elected officials and dignitaries to list — Henry Waxman, Richard Bloom, Eric Garcetti, Wendy Greuel, and Eric Bauman among them.
2008: our election headquarters on Wilshire Blvd. in Santa Monica expanded to house the Obama campaign and become one the top-performing Obama/Biden headquarters in the country
---
PPDC finds the most engaging speakers, from political leaders to journalists to newsmakers, to keep you in the loop on critical issues. We've brought you (partial list):
Senior Advisor to President Obama Valerie Jarrett, Clinton Labor Sec. Robert Reich
Sen. and VP candidate Kamala Harris, Sen. Barbara Boxer
Reps. Ted Lieu, Maxine Waters, Julia Brownley; Henry Waxman
Gov. Gavin Newsom, Controller John Chiang, Insurance Comm. Dave Jones
State Sen. Ben Allen, Assemblymember Richard Bloom, State Sen. Fran Pavley
L.A. County Supervisor Sheila Kuehl, Sup. Zev Yaroslavsky
L.A. Mayor Eric Garcetti, Mayors Antonio Villaraigosa and Richard Riordan
City Councilmember Mike Bonin, City Attorney Mike Feuer, City Controller Ron Galperin, fmr Controller & current L.A. Homeless Services Auth. Comm. Wendy Greuel, fmr CM & current GM L.A. Economic & Workforce Development Dept. Jan Perry
Academy Award® winner Michael Moore, Peabody Award winner Robert Greenwald, Pulitzer Prize winnerMichael Hiltzik, cartoonist/author Brad Parker, Webby Award winner & TruthDig founder Robert Scheer, Nat'l Book Award winner Gore Vidal, Radio/TV host/author & Orwell Award winner Bill Press, commentator/authorJohn Dean, Emmy & Human Rights Award-winning author/activist Mike Farrell, NextGen America & Need to Impeach founder Tom Steyer, comedian Paula Poundstone, American Prospect Executive Editor Dave Dayen

Every couple of years we hold our special Political Courage|Human Rights Awards events, honoring, among others:
Sen. Barbara Boxer; Campaign for a Healthy California co-chair Dr. Paul Song
Presidential Medal of Freedom recipient Dolores Huerta, JFK Library Profiles in Courage Award winner Mikey Weinstein
Author/activist Ron Kovic and Pentagon Papers whistleblower Daniel Ellsberg
Ambassador Joe Wilson, CIA Operative Valerie Plame, and new-media mogul Arianna Huffington
Emmy Award winner Phil Donahue, National Board of Review Best Documentary winner Ellen Spiro
These are unforgettable events, with newsmakers speaking passionately about their work. You won't want to miss the next one.
Board meetings
Board meetings are held the first Tuesday of every month, 6:30 – 8:30 PM, on Zoom. These meetings aren't open to the public — we hold many other public meetings and events, all listed here on the website and posted on our PaliDems social media accounts — but if you're interested in attending, with an eye toward perhaps being invited to join our board, call 310-230-2084 or click here to email us.